The Bronze age stretched from 2000 to 700 BC, and began when the first metalworking technology was introduced into Britain about 4000 years ago. However, it was not until about 1000BC that the bronze tools began to replace their flint equivalents, as before then, bronze tools were only really used as a measure of wealth, and usually were made as "grave goods"

We know that during the bronze age there was a settlement somewhere in the area now occupied by Leicester City Centre, as the burial site has been found in the High Street, Silver Arcade area. We also now that a barrow cemetery was built on a ridge overlooking the River Soar. We also now that there were bronze age burial mounds in the Western Park and New Parks areas because crop marks have been found.

Bronze tools have been found in the area, as far apart as Eyres Monsell, Abbey Meadows and Glenfield, as well as in the city centre itself. A large amount of pottery was also found in Glenfield during building work on the Elm Tree Avenue Housing Estate. This settlement is believed to date from 1000BC and is thought to be an important centre, possibly the bronze age predecessor of Leicester.
Bronze Age Source Question
Look at the sources and answer the questions which follow.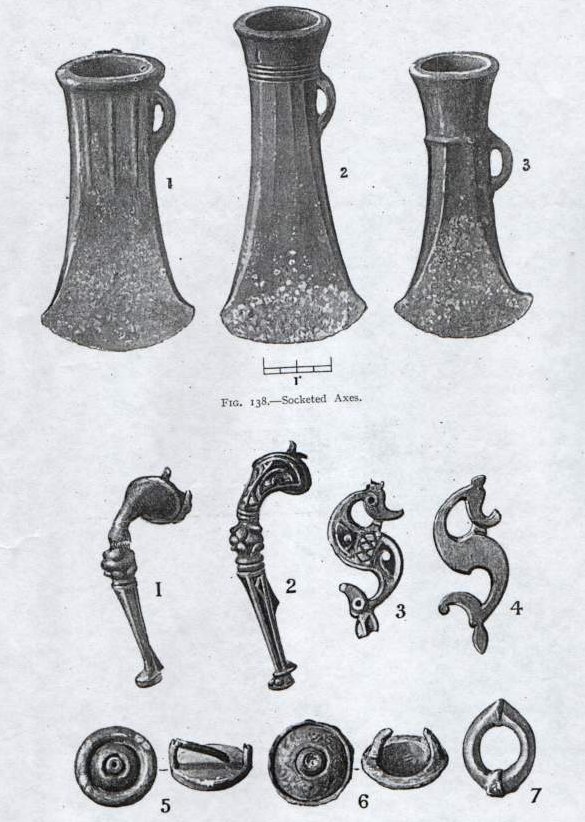 Source A
A selection of Bronze Artefacts found during excavations at a Traprain Law near the River Tyne.
From "http://wflg.clara.com"