Buckingham, William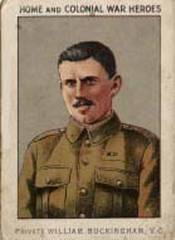 Born in 1886, William Buckingham was taken into care of the Local authority at the age of 6, and spent his childhood at the Countesthorpe Cottage Homes. He joined the Leicester Regiment as a regular soldier in 1901, at the age of 15, and served in Egypt and India. In 1914, when the regiment was mobilised, he went to France with the Indian Expeditionary Force.
Whilst in action at Neuve Chapelle, he managed to win a Victoria Cross, for "conspicuous acts of bravery and devotion in rescuing and remaining with and administering aid to wounded while exposed to heavy fire."
On the third day of action, he was shot in the chest, but the bullet was deflected by a pack of postcards, and again by his cartridge case eventually lodging in his right arm.
On September 15th, 1916, private 6276 William Buckingham of the 2nd battalion of the Leicester Regiment was killed by machine-gun fire, whilst serving as an orderly to Captain Mosse.